7 min read
Tech stack for accounting firm by using Hubspot as a single source of truth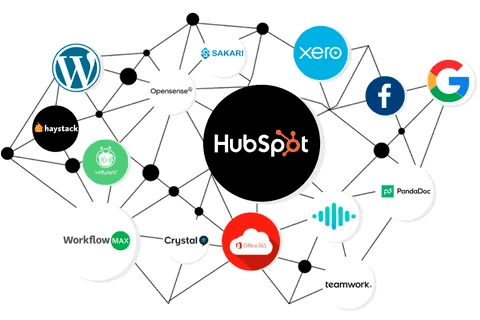 As an accounting firm, keeping track of client data, sales activities, and internal processes is crucial for success. But with so many tools available, how do you decide which ones to choose for your tech stack? With HubSpot's marketing, sales, service, and operations modules, plus integrations with cloud-based software, you can streamline your processes and keep all records up-to-date. In this article, we'll explore tech stack solutions, such as PandaDoc and SuiteFiles, and how they integrate with HubSpot to improve your accounting business. Automate document workflows, track customer behavior, and access all your files in a central, cloud-based repository. Say goodbye to manual data entry and hello to efficient and effective processes.
For an accounting firm, it is important to start with basic accounting software, such as Xero. And what else do you need when facing clients directly and streamline your process? You can add the signature and proposal software, payment software, invoicing and engagement software, txt message software, communication software, cloud document management and video software as adds on.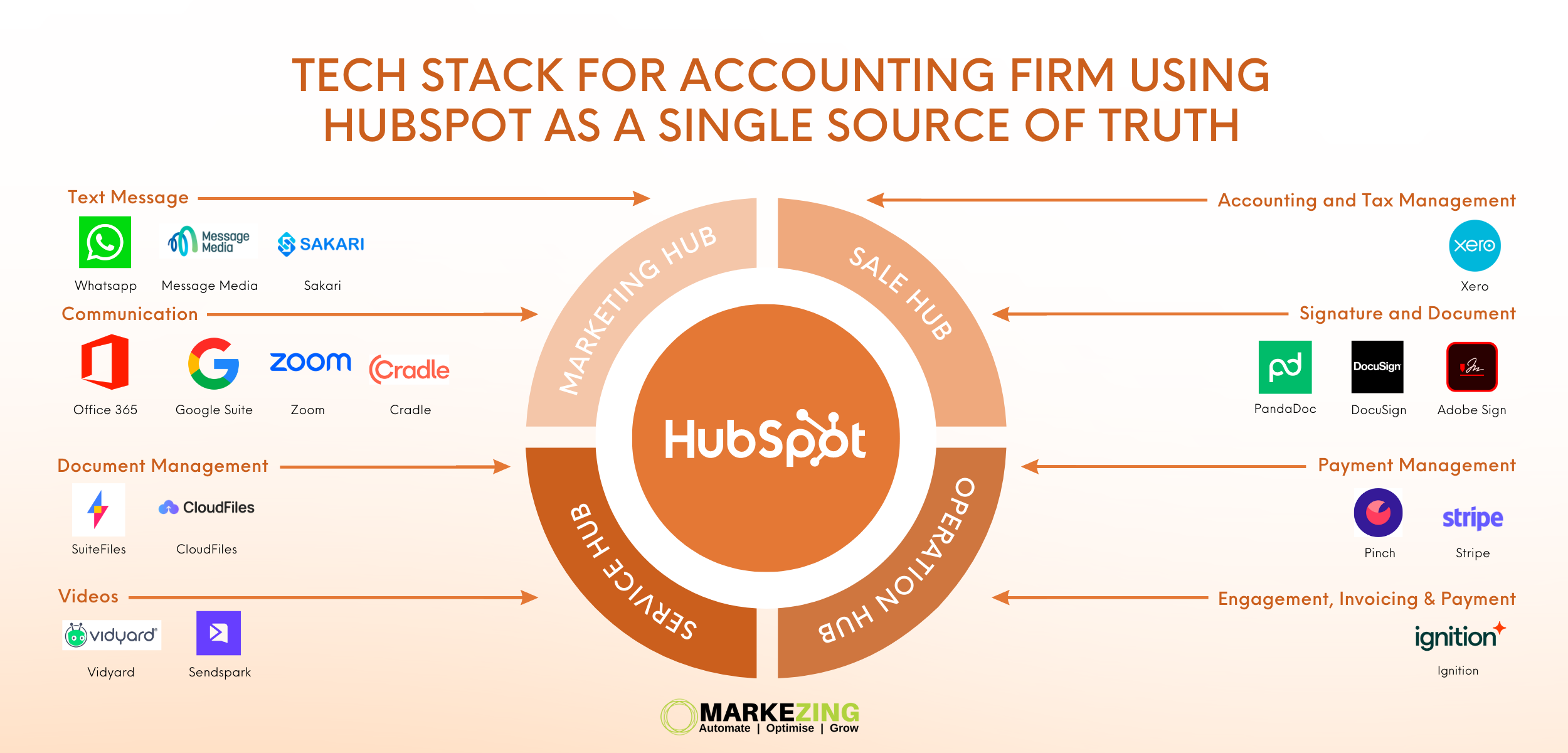 To communicate with customers through messages, you can leverage WhatsApp, Message Media or Sakari.
Office 365, G Suite, Zoom and Cradle have built-in integration with HubSpot, so that you can track latest emails in contact activity, schedule a Zoom meeting, upload call recording on contact timeline, etc.
The cloud based document management tool like SuiteFiles and CloudFiles can help you synchronize document records from OneDrive, Google Drive to HubSpot and better manage your service and deal pipeline.
The signature and payment management software can help you get immediate response from the customer, and with the help of integration the status can be used as a trigger to automate your workflows in HubSpot.
Hereby we'll introduce some of the tech stack you'll be using for accounting business and how it syncs with HubSpot to streamline your business processes.
1- Pandadoc
PandaDoc is a cloud-based platform that helps businesses automate their document workflows and streamline their document signing process. With PandaDoc, accounting firms can easily create, send, and track documents such as contracts, proposals, invoices, and more.
One of the key features of PandaDoc is electronic signature functionality, which allows users to sign and approve documents digitally, eliminating the need for printing, scanning, and faxing. This can save a lot of time and hassle for accounting firms, especially when dealing with large volumes of documents or clients who are located remotely.
PandaDoc also offers a number of other features that can help accounting firms streamline their document workflows, such as document templates, merge fields, and integration with CRM and accounting software. With these tools, firms can quickly and easily create professional-looking documents, customize them for each client, and track the status of each document in real time.
In addition to its core document management and e-signature functionality, PandaDoc also offers integration with HubSpot.
With the PandaDoc and HubSpot integration, accounting firms can seamlessly connect their document workflows to their customer data and sales processes. This can help firms better manage their client relationships and drive more efficient sales and document management.
For example, firms can use the integration to:
- Automate the creation and sending of documents such as proposals, contracts, and invoices based on customer data stored in HubSpot.
- Track the status of documents and e-signatures within the PandaDoc platform, and have this information automatically updated in HubSpot.
- Use PandaDoc's document analytics and insights to better understand customer behavior and improve sales processes.
- Use PandaDoc's integration with HubSpot's marketing and sales automation tools to create personalized, data-driven documents and sales collateral.
Overall, the integration between PandaDoc and HubSpot can help accounting firms streamline their document workflows and improve their customer relationships.
2-Suite files
SuiteFiles is a cloud-based document management platform specifically designed to help accounting firms streamline their document management process. It offers a range of features that can help accounting firms better organize, manage, and access their documents and files.
One of the key benefits of SuiteFiles is that it allows accounting firms to store all of their documents and files in a central, cloud-based repository. This means that all of their documents are available in a single, easily accessible location, regardless of where the user is located. This can be particularly useful for firms with multiple offices or for teams that need to collaborate remotely.
SuiteFiles also offers a range of tools for organizing and managing documents, such as the ability to create custom folders and tags, as well as the ability to set permissions and access controls for different users. This can help firms to keep their documents organized and secure, and to ensure that only the right people have access to sensitive information.
Additionally, SuiteFiles offers a range of integrations with other tools and applications that are commonly used in the accounting industry, such as accounting software like Xero and QuickBooks. This can help firms to streamline their workflow and to more easily access and manage their documents within the context of their other business processes.
Overall, SuiteFiles can be a valuable tool for accounting firms looking to improve their document management processes, by providing a central repository for all of their documents and files, and by offering a range of tools for organizing and managing those documents.
3- Ignition
Ignition is a business process automation platform that helps companies streamline their onboarding and engagement process by automating repetitive tasks, improving communication and collaboration, and providing a centralized platform for all relevant information and documents.
One way that Ignition can help accounting firms is by automating the onboarding process for new clients. This can include tasks such as collecting and verifying client information, setting up new client files and accounts, and sending out engagement letters. By automating these tasks, accounting firms can save time and reduce the risk of errors, freeing up their staff to focus on more value-added activities.
Ignition can also help accounting firms improve communication and collaboration with their clients. For example, the platform can be used to share documents and communicate with clients in real time, reducing the need for phone calls and emails. This can help to speed up the engagement process and improve the overall client experience.
Finally, Ignition can provide a centralized platform for all relevant information and documents, making it easier for accounting firms to access and share information with their clients. This can help to reduce the risk of errors and improve the efficiency of the engagement process.
You can integrate Ignition and HubSpot by using Zapier. For example, when your client accepts the proposal in Ignition, the Zapier can help you automatically update their status to the Closed Won stage or initiate workflow based on the status change in Ignition.
4- Whatsapp
WhatsApp is a messaging app that allows users to send text, images, videos, and other forms of media to one another over the internet. It can be used on both smartphones and desktop computers, and is available for iOS, Android, and other platforms.
One way that WhatsApp can help accounting firms streamline their communication is by providing a centralized platform for messaging and file sharing. This can help to reduce the need for email, which can be time-consuming to manage and may not be as secure as other forms of communication. WhatsApp also offers end-to-end encryption for all messages, which can help to protect sensitive information from being intercepted.
Another way that WhatsApp can help accounting firms is by enabling real-time communication between team members. This can help to improve collaboration and reduce the time it takes to complete tasks. For example, if one team member is working on a project and needs input from another team member, they can use WhatsApp to get a quick response rather than having to wait for a response via email or phone.
With the integration of HubSpot, you can send 1:1 messaging from within HubSpot so that the conversation will be recorded on the HubSpot Contact timeline. And you can also send WhatsApp messages through HubSpot workflows. But please bear in mind that in compliance with WhatsApp Terms of Service you should have a WhatsApp Business Account to do the integration.
Overall, WhatsApp can help accounting firms streamline their communication by providing a secure and convenient platform for messaging, file sharing, and real-time collaboration.
---
Are you facing questions when building up your own tech stack?
Book a FREE consultation with us so that we can help you diagnose and provide your suggestions.
Follow us on Facebook: https://www.facebook.com/markezingltd
Follow us on Instagram: @markezing_growth